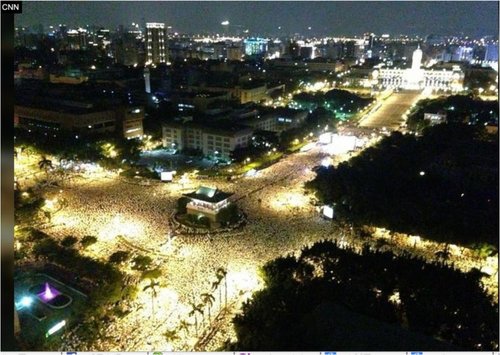 【CNN跟BBC對25萬白杉軍抗議洪仲秋事件的報導】
[臺灣的正義十字架A Righteous Cross in Taiwan]
郭易老師幫大家整理了CNN跟BBC
對於臺灣25萬人上街頭抗議洪仲秋事件跟軍中人權的報導
讓台灣民眾對於不平的怒吼也可透過國際公正媒體發聲!
CNN http://ireport.cnn.com/docs/DOC-1015041
也有現場影片可看
Near a quarter million Taiwanese marched and gathered in front of the Presidential Office Building on the night of August 3rd (local time) demanding justice for the tragic death of young Corporal Hung Chung-Chu (洪仲丘) and the improvement of human rights issues in the country's military, Republic of China Army (RCA).

The mysterious death of Corporal Hung has been the center of this island's attention for a month since its reporting in early July. Though the government and its military police have vowed to investigate thoroughly, many have not yet been satisfied with the results. Corrupted key evidences and many statements with either incomplete or suspicious information released by the military police investigation unit only fueled people's anger and frustration toward the government.
The protest on August 3rd was aimed to pressure the government for more detailed and open investigation into Hung's tragedy and improvements for soldiers' rights in RCA. A Facebook group named "Citizen 1985" organized and called for the protest.
Over hundreds of thousands of users showed their support online by sharing the information of this event via Facebook, YouTube, and other social media channels. The majority of the event participants are believed to be young men and women in their 20s. Many perceived this event as a new milestone of social movement activity for young Taiwanese.
The government sopekeman and the President of the Executive Yua, Chiang Yi-Huah (江宜樺), held a press conference later at night responding to the protest. Chiang reassured the public that the government will devote its effort to provide a practical and swift improvement plan for the human rights issues in the military and the military court justice system. However, Chiang also stated that the government will respect the investigation results done by the military police and the will not interfere nor involve with the case further.
Many are skeptical about such announcement due to the lack of government action to face these issues in the past. It is fair to say that more protest events are to be expected in the following weeks if there is no sign of change or progress on Hung's case.
--------------------------
BBC對於洪仲秋事件的報導
Taiwan protest over Hung Chung-chiu death
Protesters say they are not convinced the investigation is sincere
Continue reading the main story
Related Stories
• Taiwan minister resigns amid row
• Taiwan profile
Tens of thousands of people have rallied in Taiwan's capital, Taipei, to protest against the treatment of a young army conscript who died after being punished for misconduct.
Some 18 army officers, including a major-general, have already been charged in connection with the case.
The defence minister has also resigned.
Hung Chung-chiu, 24, was only three days away from completing his military service when he died of organ failure brought on by heatstroke.
Corporal Hung had been held in solitary confinement for bringing a mobile phone with built-in camera onto his military base - and was then subjected to arduous punishment exercises in the hot sun.
His death has generated outrage across Taiwan and damaged the standing of the army, which is already struggling to find enough volunteers as it tries to phase out conscription, says the BBC's Charles Scanlon.
President Ma Ying-Jeou has publicly apologised and promised justice for the family.
Continue reading the main story
"Start Quote
I am mourning for Hung Chung-chiu and I want the truth - I hope there won't be any more abuse and death like his in the military"
End Quote Jenny Tan Protester
But protesters in the streets of Taipei, many dressed in white to symbolise truth, said they were not convinced by the sincerity of the investigation in the case.
Other families have also come forward to demand justice for their sons who died during military service.
"I am mourning for Hung Chung-chiu and I want the truth. I hope there won't be any more abuse and death like his in the military," protester Jenny Tan told the AFP news agency.
It is a crisis of confidence for Taiwan's army of more than 200,000, as it tries to maintain the credibility of its defensive stance against the threat from China, our analyst says.
All Taiwanese men aged between 18 and 36 are required to complete one year's military service, although there are plans to move to an all-volunteer force.
Cpl Hung's funeral is due to be held on Sunday.